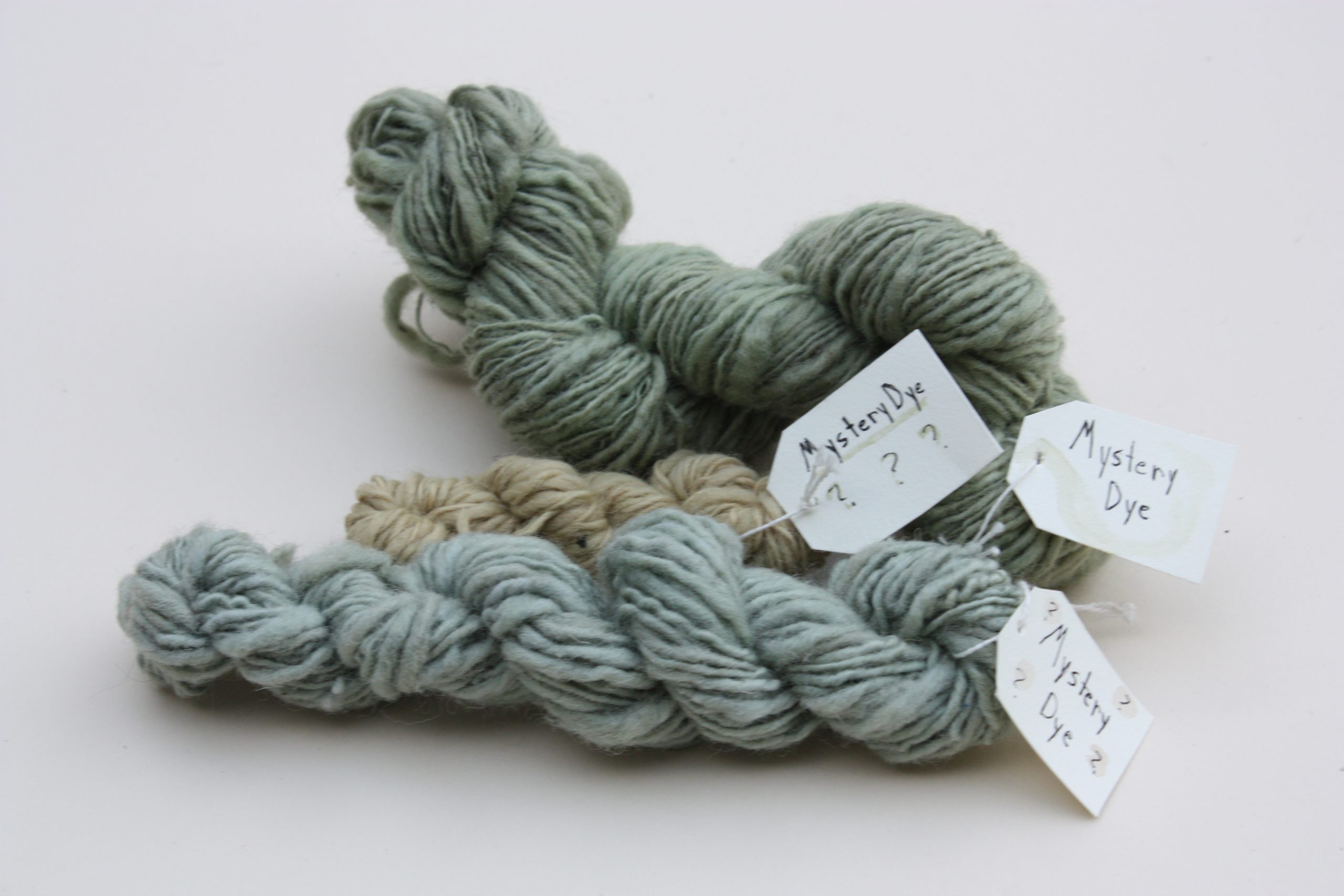 5 Tips for Getting Started with Natural Dyes
At first glance, the world of dyeing with natural substances may seem overwhelming. With the immense scope of possibilities for dyes, various processes included, and the fact that this is not a clear cut science it is easy to see why a new dyer may feel intimidated.
Which dyes to start with? Should I buy a book? What should I dye? Do I have the proper equipment? Which mordants should I use?
If any of these questions are running through your head after seeing a naturally dyed item at a local craft fair, or hearing about natural dyes from a friend, have no fear, it is all possible. One of my favorite parts about dyeing with nature is the possiblities for experiementing and the fact that we can use plants growing all around us to create a rainbow of beautiful and ecological color. This same possibility and wealth of dye plants is the part that also gets overwhelming. So take a breath and remember that you can do it! These tips on getting started will help you feel grounded as you begin to explore the world of natural color.
1. Embrace your 'mistakes'  
Nothing will get you more experienced and comfortable than diving in. Remember that there are no mistakes; every dye pot is an amazing learning opportunity! Even if you don't get what you were expecting it may outshine your wildest dreams. So you were looking for green and got purple instead— it's still an awesome color! And what if you don't get ANY  color from an experiment? These amazingly luscious mystery mushrooms seemed like an easy red dye, but after hours in the dyepot there was zero color!  However, it was still fun and it served to rejuvenate my interest in finding the right mushrooms this year!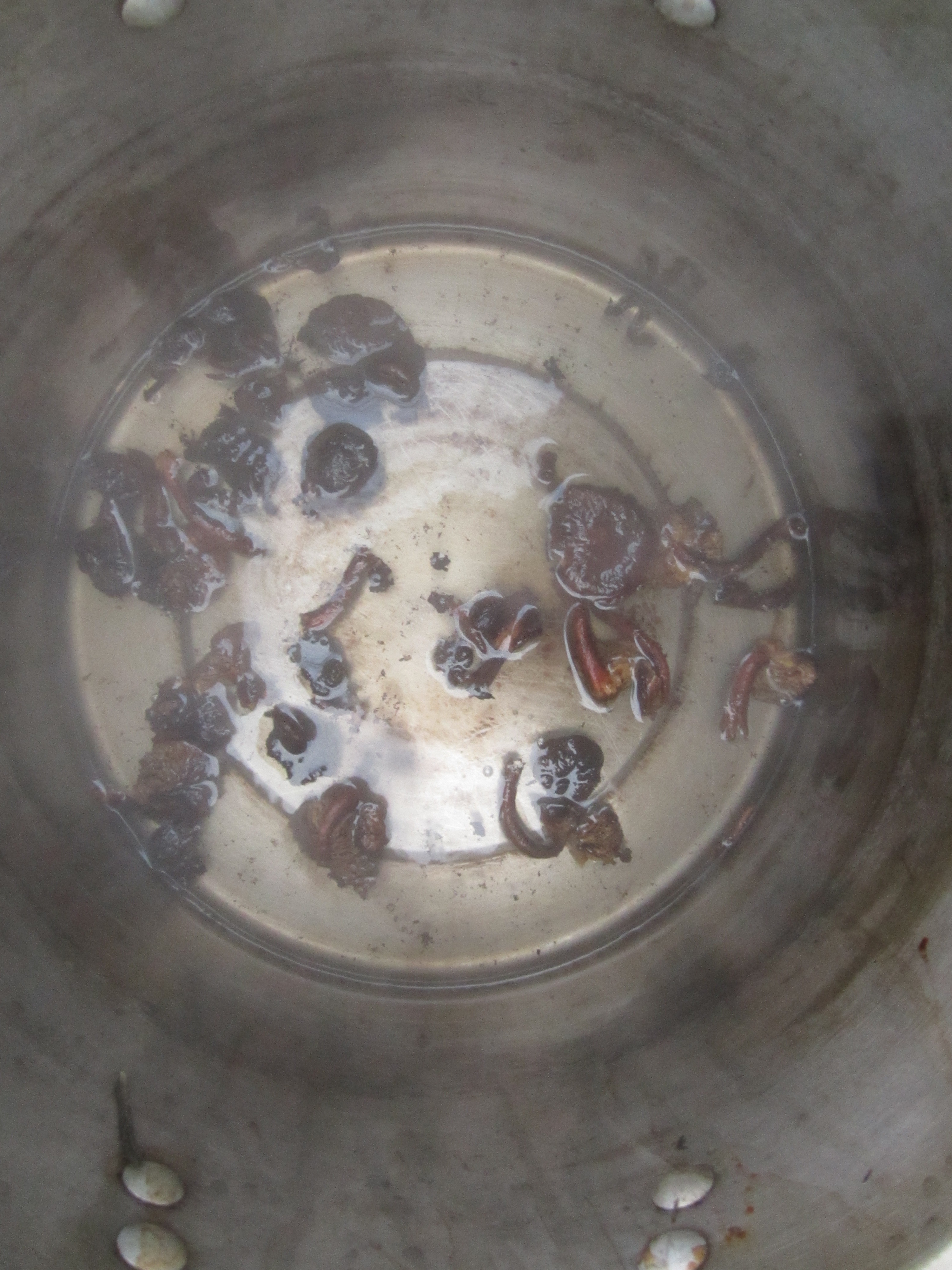 2. Whatever you do, document it well
The photo below illustrates my point. Unless you want to look back in five years and sadly have to label skeins as 'Mystery Dyes' then take the extra time to document and take notes. Pick a single notebook and dedicate it to taking notes before, during, and after each dye pot. Even if a detail seems irrelevant, like how much water you add to the pot, every bit is valuable when you want to replicate those results on another day. Get a little kitchen timer so you know exactly how long it was simmering. Don't forget to label the skeins themselves and tape a small sample in your book;  you will thank yourself later! Photographing your process and results is also really helpful, not to mention fun!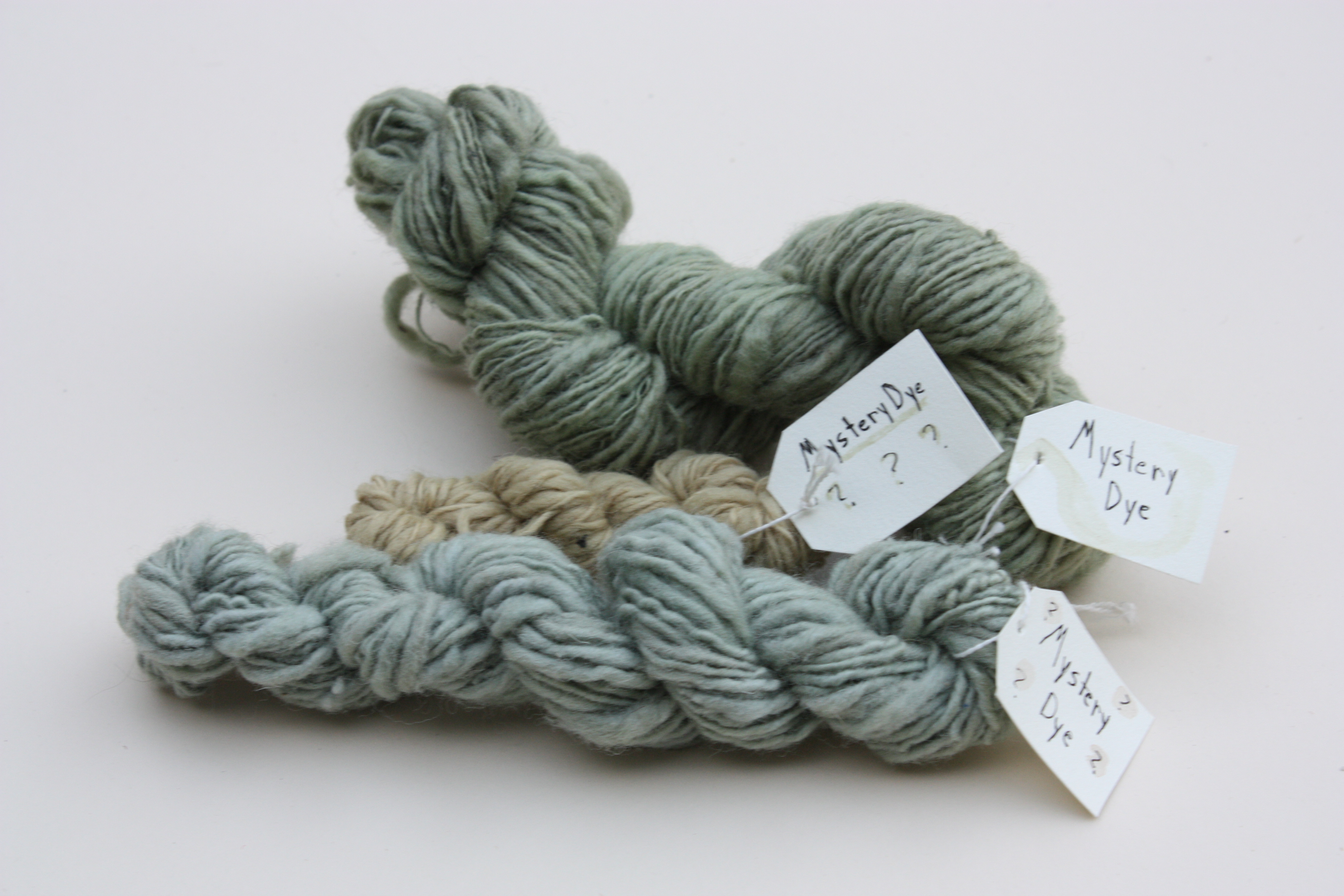 3. Dye with a friend
 If you are unsure about what to do first it can be a great motivation to go through the process with a friend. When I first start working with dyes I loved having company in the studio and gushing over the results of a dyebath with my dye partner. Neither of you necessarily has to have experience— it is just reassuring and fun to have company.

4. Be creative with materials
If you are intimidated by the dye pots, spoons, scales, and other materials needed to start dyeing then hit the yard sales! Stainless steel pots can be as little as 5 dollars at a flea market and my favorite iron pot I salvaged from my parent's garage. Scales, thermometers, strainers, and camp stoves are all pretty easy to come by used. If you need an item and just can't find it at a yard sale you can always try craigslist. Even the dollar store carries slotted spoons and strainers. As for what to actually dye, check out the salvation army or local thrift store for wool sweaters, yarn, and other creative materials. Just remember it needs to be 100% natural. No acrylic or nylon. These two beautiful dyepots are filled with used clothes being given a new life!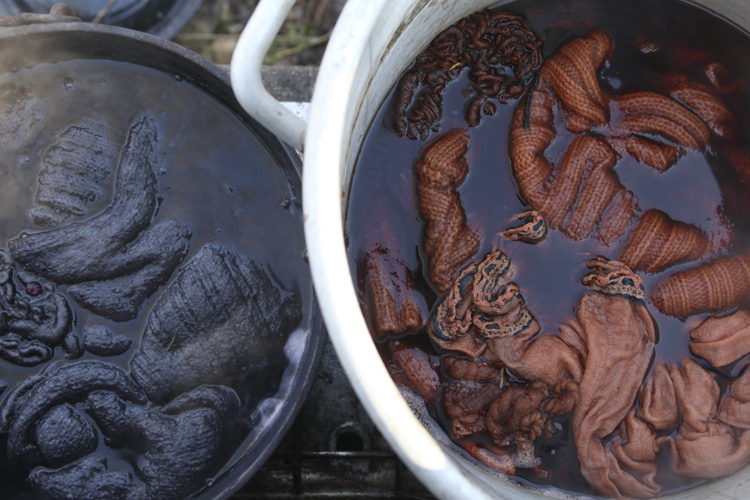 5. Use a book, but don't be afraid to create your own recipes
Take it one dye bath at a time. Don't worry about every single recipe in your new book. Pick one or two that appeal to you and just give it a go!  And if you don't have everything the recipe calls for? Deviate from it— recipes are there to help you, but don't be afraid to create your own. You may get some amazing results. (Just don't forget to document them.) Even if you have an aluminum pot, some onion skins, a stick to stir with, and an old pair of wool socks you are ready to go!
I think that the last tip is the most valuable. Just doing it is the best way to get started! It is also nice to have a book to go off of and here are two that I always recommend. They are both filled with great recipes and will help you with all the technical stuff I haven't covered here. Be sure to check out online sources as well— there are some great blogs that can help you as well. Lastly, you can always email me or respond to this post with questions or to share your results! For recipes, updates about community events, and other fun ideas
join my mailing list 
Harvesting Color 
by Rebecca Burgess. This book reads like a story, complete with gorgeous photos.
Wild Color
by Jenny Dean. The aspect that I like about this book is that it has so many different recipes and has clear sections on mordanting different fibers.