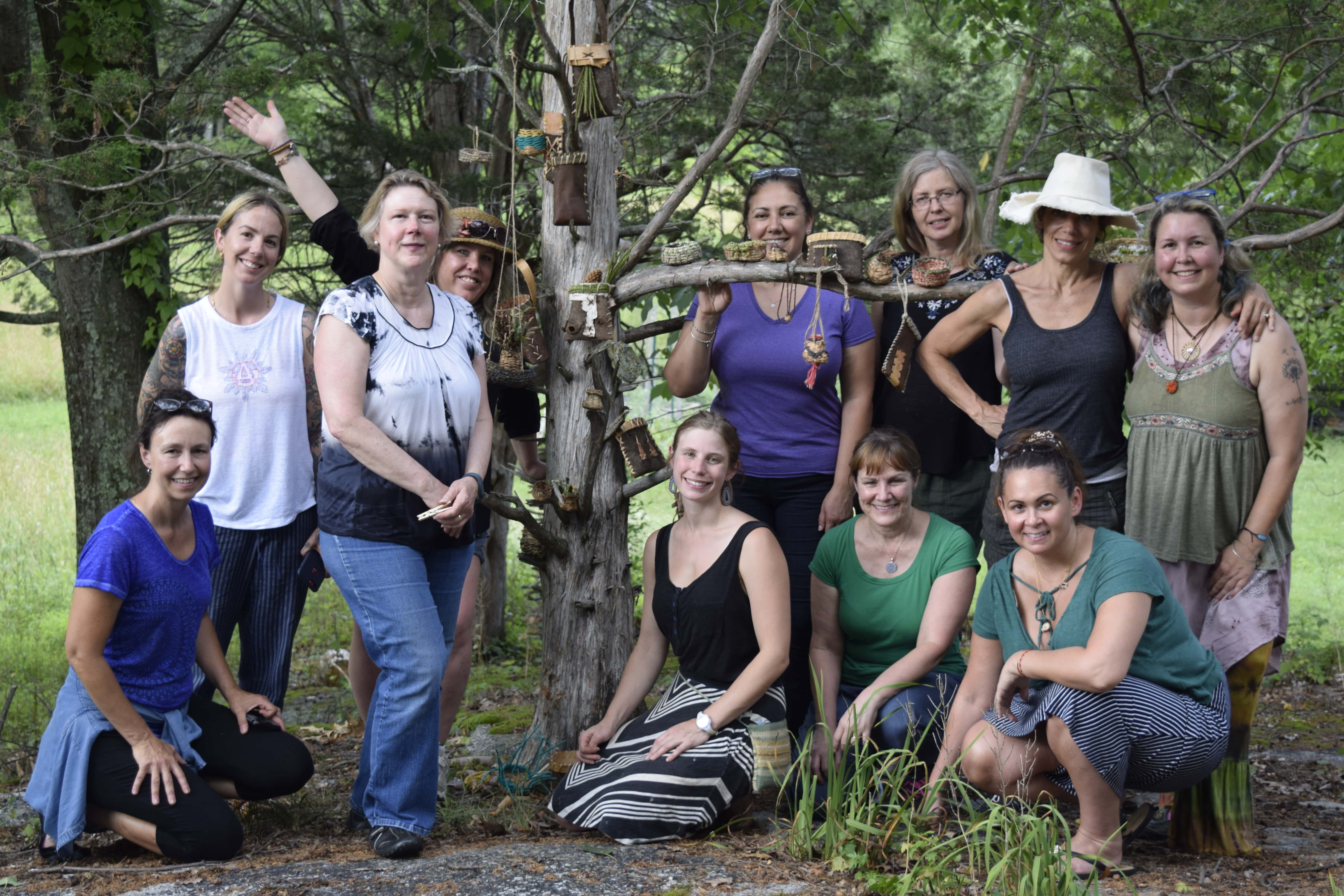 Basketry Weekend Intensive
A weekend of basketry
We are truly in the depths of summer here in the Hudson Valley of New York this July. Afternoon thunderstorms, muggy weather, and ripening blueberries on nearby ridges. In the midst of this truly July weather 12 participants gathered in beautiful High Falls New York for my first basketry weekend intensive! Now I've done weekend workshops before, but this one was unique in that we covered three essential basket making techniques in a single weekend. Participants left with 3-5 finished baskets, a ton of handouts, and inspiration and knowledge to continue making baskets on their own. As usual it was an exceptional group of individuals, each with their own unique styles which showed beautifully in their baskets! Coiling, twining, and folded bark were the techniques covered and each person had their own favorite by the end. If you are reading this and were a participant in the July weekend then THANK YOU for making it such an inspiring and fun time!
Want to join a basketry weekend intensive?
Currently I have another weekend intensive scheduled for October 5th and 6th of this year (2018) in Vermont with spaces still available. For more info on the Vermont Weekend Basketry Intensive click here.
I'll also be scheduling this workshop at other venues. If you are interested email me at katiegroveart@gmail.com or fill out the contact sheet on this page for more info.
The basketry techniques covered
In this weekend the three techniques covered were three basic basket making styles: coiling, twining, and folded bark. For each technique we spent about a half a day covering the basics with participants making a small or a miniature basket to get the hang of how it worked. By Sunday afternoon we had covered everything and folks were given the opportunity to choose which technique they wanted to continue developing. For this workshop many people chose to go with twining, and worked on one or even more baskets Sunday afternoon to really get the hang of starting a twined basket. The materials we used were all harvested and processed by me with love and care. Being a steward of the land is a cornerstone of my practice and I always aim to share that with people in my workshops. This weekend we used black walnut inner bark, tulip tree inner bark, white pine bark, birch bark, cattails, sedges, grasses, cornhusks, and basswood inner bark fiber. There were probably more, but I'm forgetting them! Can you spot the different materials and techniques in the photos? Let me know if you do : )
And without further ado here are photos of everyone and their beautiful baskets from the weekend!