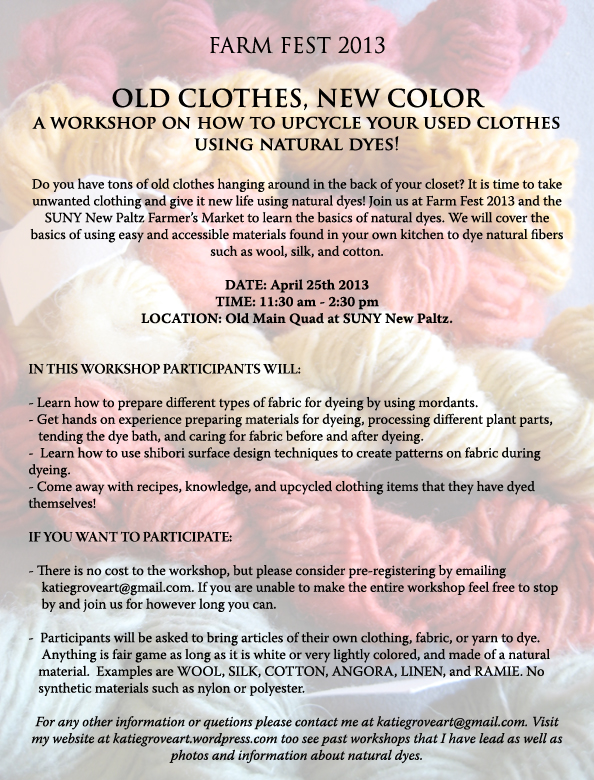 Natural Dye Workshop at Farm Fest 2013 on the SUNY New Paltz Campus
FARM FEST 2013 IS APPROACHING FAST
Spring is here! Although I am stuck at home with a flat tire, I'm pretty sure there is not better place on this earth I could be right now. Hawks are circling in the sky, birds are singing, the sun is reflecting off the pond, and all the little plants are thriving. Let's just forget about the frost that is predicted for tonight and enjoy the springtime today. : ) 
In the world of natural dyes,  I've recently been preparing for next week's SUNY New Paltz Farm Fest where I'll be giving a workshop throughout the day on using food waste to dye old clothing. I'm really looking forward to this event and hope I get a chance to see what everyone else is doing in between tending dye pots! Farm Fest, which will be held on SUNY New Paltz campus this upcoming Thursday April 25th from 11am to 4 pm, is an event that is being put on by Students for Sustainable Agriculture and Oxfam America. You can visit their facebook page here  for more information. In their own words
Farm Fest is designed to bring together farms and the community to highlight the connection between food growers and the local communities that they support. Come enjoy local music, local food prepared by students, student environmental action clubs, face painting, silk screening, acro-yoga, hooping and of course the campus farmers market farms.
FOOD DYES AND RECYCLED CLOTHING
If you are interested in attending the workshop it is super easy; just show up the college's campus between 11:30 and 2:30 and find me on the quad! Here is the flyer with more information. Everyone is welcome, Farm Fest is an event that is open to anyone and everyone.  If you want to bring an item of clothing to dye that is great, and if you would rather just see how it is done then I will have plenty of samples. Message me if you have any other questions!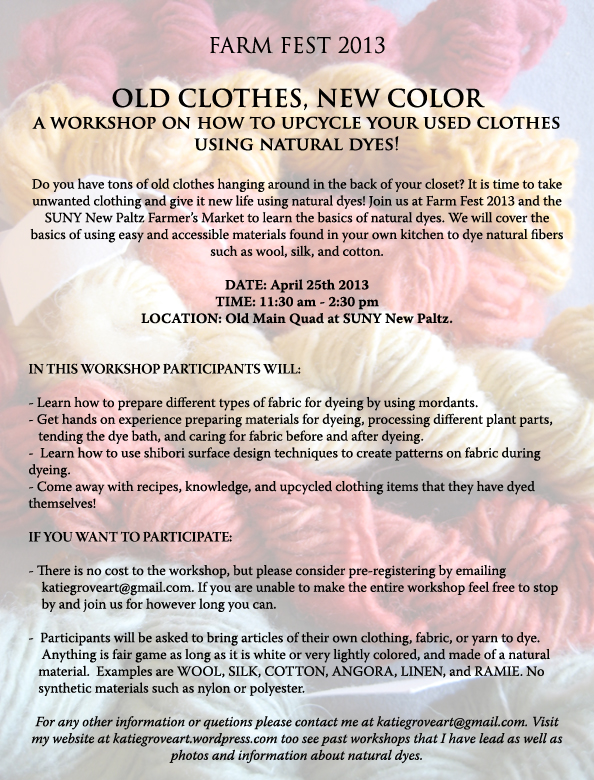 A SNEAK PEAK OF THURSDAY'S WORKSHOP
Here are some photos from my recent demo of food waste dyes at the SUNY Farmer's Market. I'll be teaching how to make some of the same dyes that I had on display at the market during the Farm Fest workshop, so if you got a chance to admire the lovely blues and reds and want to learn how to make them yourselves then stop by this Thursday!