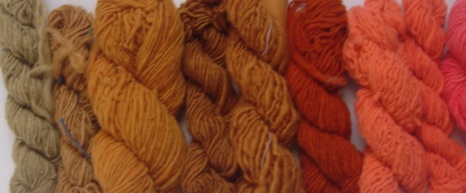 Plant Dyes of Autumn Workshop This Weekend
What do you get when you combine beautiful fall foliage, plant dyes, warm apple cider, and a (hopefully) sunny day? A workshop this weekend at my home in New Paltz. Join us for a day of dyeing with october plants this saturday, October 20th from 10m to 2 pm. Everyone is welcome, just let me know if you plan on coming. I am looking forward to seeing you there and if not then keep your eye out for more workshops coming up in the next several weeks!
PLANT DYES OF AUTUMN WORKSHOP
How to harvest and prepare dyes with plants found in the forests, fields, gardens, and backyards of our beautiful landscape! Join us to play, learn, explore, and create as we celebrate the bounty of autumn and the rich, diverse colors it provides. Everyone is welcome!

DATE/TIME: Saturday October 20th from 10:00 am to 2:00 pm
LOCATION: My home at 1234 Old Ford Circle, New Paltz NY 12561
COST: Sliding scale donation from 10 to 40 dollars. Please give what you feel comfortable with!
In this workshop you will:
learn to identify and conscientiously harvest local dyes plants
become familiar with what mordanting is and learn how to use different mordant baths to achieve a range of colors from one plant
get hands on experience preparing materials for dyeing, processing different plant parts, tending the dye bath, and caring for wool before and after dyeing.
come away with recipes and worksheets reviewing everything we covered in the workshop as well as samples of wool that you've dyed. 

Materials to bring:
I will provide sample pieces of wool, but the participant also has the option to bring their own 100% wool yarn or fabric if they want to dye more.
Wear clothes you don't mind getting dirty, or bring an apron and rubber gloves.
The workshop will be outside so dress for the weather. In celebration of the brisk autumn air we will be having warm apple cider and tea throughout class. In addition, feel free to bring a snack.

Thank you for your interest and I am looking forward to meeting you and sharing knowledge and excitement about our local plant dyes! If you have any question, or if you would like to schedule another workshop for a group please let me know either through e-mail at katiegroveart@gmail.com or by phone at (717) 433-5705.