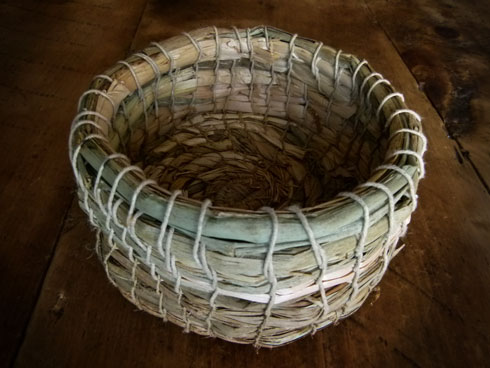 Hello everyone! I'd like to say that I've been tucked away doing crafts by the fireplace and have had no time for blogging, but I must admit that traveling, visiting family, and eating way too many Christmas cookies has occupied most of my time lately! Sometimes it is nice to just relax and not worry, but with the coming of the new year I am back and at it and hope to have posts bi-weekly at the least.
Today I'd like to introduce one of my other interests— basketry! Creating baskets with found natural materials especially is a creative and fulfilling way to work with your hands, get to know your environment, and create one of a kind pieces of functional (or non-functional artwork. There are many ways to approach basketry as a begginer— twining, plating, doing free-form work are just a few examples. However, in my opinion the most versatile, approachable, and fun is coiled basketry.
Basket making has brought people together for centuries and its process represents the very essence of community. It is an ancient form of expression and links us to our pasts and our natural environments.
On January 18th from 9am to 5pm at High Meadow School in Stone Ridge I will be co-teaching an introductory workshop to coiled basketry with Sheena-Marie Heinitz! If anyone is interested in knowing more visit Wild Earth's website here to learn more about being a part of this event. Spaces are limited so sign up as soon! We will be providing all the supplies so if you are excited about crafting, working with your hands, using common materials such as cattails and grasses to create art, or even just gathering with a group of warm and kind people on a winter day and learning a new skill please consider joining us!
Here is an example of the type of natural basket we will be making with local materials such as cattail leaves, rushes, and grasses all gathered sustainably from the area.
One of the lovely things about coiled basketry (and most types of basketry for that matter!) is how little you need for materials. A more bulky material for the substance of the basket, a thinner thread, such as hemp, to weave it together, a needle, and a gauge for keeping your material neat is all you need to create a basket like this. It is also very versatile material wise. While we will be focusing on cattails, anything can be used; one of my personal favorite is pine needles. Also on the list are leftover pieces of handspun yarn, corn husks, wire, fabric, and iris leaves— there is so much room for creativity. Plus, did I mention for all you dyers out there that natural basketry materials such as cattails and pine needles are beautiful candidates for natural dyes? Treat them delicately during the process though. Using too high of a heat while applying the dye can cause them to deteriorate a bit. If you are careful then they will be fine though. Take into account the fact that many of these materials (pine needles especially) already have a color so you will be basically over-dyeing them with whatever color you choose and they will turn out darker and more subtle than white materials such as wool.
Do you have any experience with coiled basketry? Any interesting materials that you love to use? I'd love to see your pictures! If you have never tried coiled basketry before visit Wild Earth's website here or message me with any questions.